---
This space features various resources hosted by the Latinx Resource Center to foster academic success with a focus on academic support. Please refer to the list below for more information.
Mermeladas de Estudio | Study Jams
Free Study Jams for Lower Division & Upper Division Math courses. Receive personalized peer-to-peer support designed to help you succeed. You can schedule 1-on-1 lower division and upper division math courses. Every quarter there will also be Group Tutoring sessions for specific math courses. In the past we have had them for Math 2a, 2b, 13, 120b,121a, and 180a with an offering of two courses each term. Co-sponsored by UCI CalTeach. Register HERE.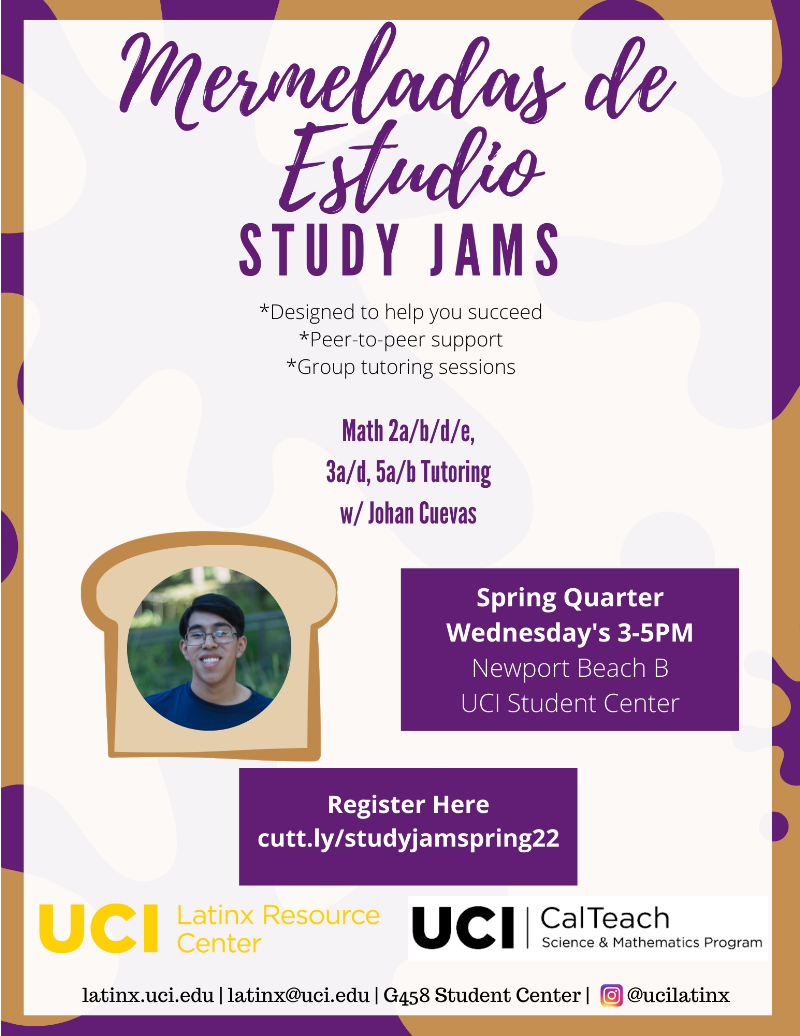 A 1.3 unit class in the Fall to help students succeed in their first year at UC Irvine. We invite all first-year and transfer students to participate in this class as they transition to UCI and learn how to thrive on campus. This class introduces on-campus resources to our students and college-readiness skills to help students build a strong foundation to their start at UCI! There are usually 14 course sections offered and the Latinx Resource Center offers one geared toward and about the Latinx community featuring instruction from the Latinx Resource Center's director, Adelí Duron and the Program Coordinator, Victoria Rocha. Course Information
Individual peer-to-peer phone calling to Latinx-identified students to check-in on them during the pandemic. This outreach service provides resources, services and any additional support referrals for students.